Buy Best

Living Room furniture
The living room is the very first appearance of your home, and it is the heart of your home, welcoming guests with love and warmth. Furniture arrangement is crucial when it comes to arranging a living room. The majority of living rooms serve many functions, including chatting, relaxing, playing games, entertaining, and watching television. When furnishing your living room, make sure that the area is user-friendly for all your activities. So, let's see what furniture you need to give your living room a whole new look.
Thing that complete your living room
Place a classy sofa set 
If you choose the correct trendy couch design, you may easily create a cluster of classiness in your living room decor. If you want to synchronize your living room color and furnishing, a matte yet sharp tone of a sofa set might seem lovely in every way.
There is a list of sofa sets like L shape sofa  Chesterfield sofa, chaise sofa, sofa cum bed, etc. if you live in a small apartment, then sofa cum bed can be the ideal form of accentuation for you because they are space utility. Furthermore, a love seat sofa is perfect for couples. 
Trendy coffee table/center table 
Sipping a cup of tea and enjoying it in your living room makes an evening seem more appealing. But where would you put the teacup? A center table? The coffee table is significant in your lounge room, without a doubt. But there is a range of coffee table with multiple designs and color shape that goes with every taste.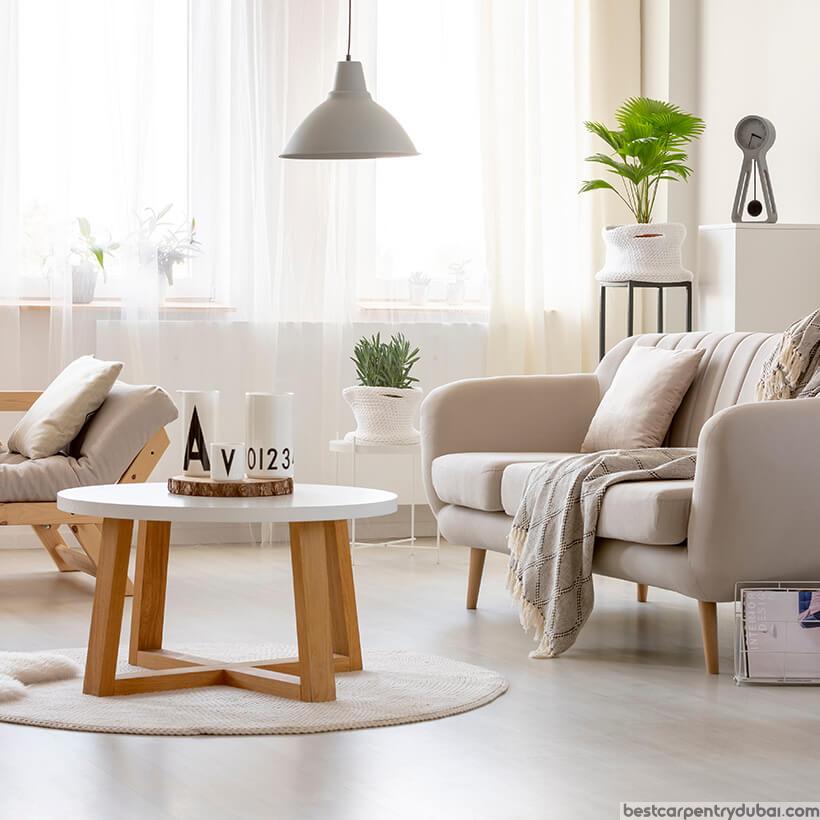 Other additional seatings
You might not know how many guests can come to your place, and if you do not have enough space to sit, that will give a wrong impression. If you want to add up more seating space in your living room, you can consider furniture that would work for you, like accent chairs, a rocking chair, and a loveseat sofa.   That will not only complete your living room but embellish it too.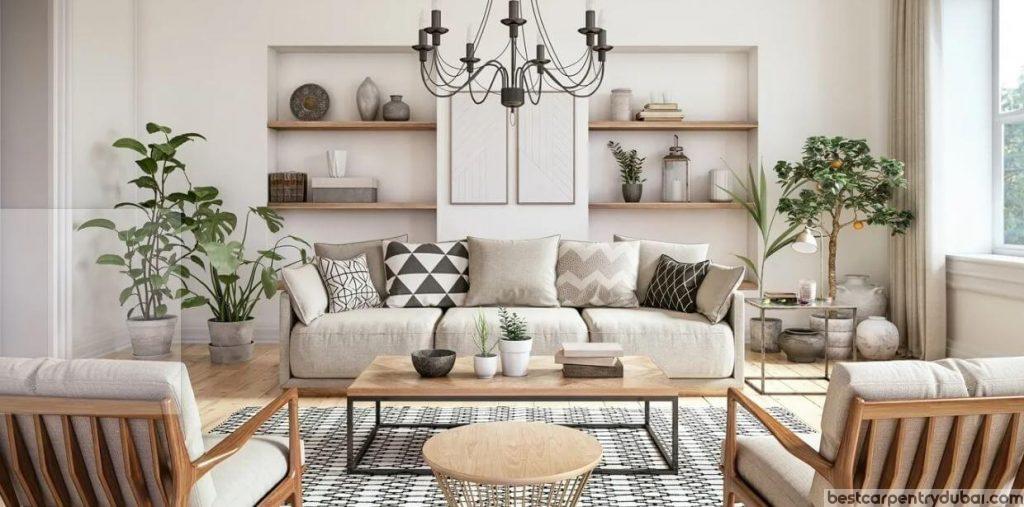 keep eye on Other side arrangements
You are just adding a sofa to your living room. Will that work for you?   The living area is where we usually spend our maximum time eating, reading, lounging, etc. What if suddenly a guest comes? Therefore it is necessary to keep your living room organized. Consider some side tables to put your wallet and car keys on and a bookshelf with storage space if you love to read a book. Bookshelf will keep them organized, and drawers offer extra storage to make your thing accessible. A TV cabinet is also one of the most significant things. To fully enjoy your time in the living room, you should supplement your furnishings with TV cabinets, transforming your ordinary space into a hub of entertainment. You can select a range of multiple designs and styles of tv cabinets. 
Why choose us? 
All these are the must-buy things for your living room. If you wonder where to avail of their form at a reasonable price, consider Best Carpentry Dubai. We have the solution to all your needs regarding furnishings at the most affordable rates that don't burn your pocket. Be it a 1,2,3 seater sofa or coffee table, side table. What not. We have exactly what you need.