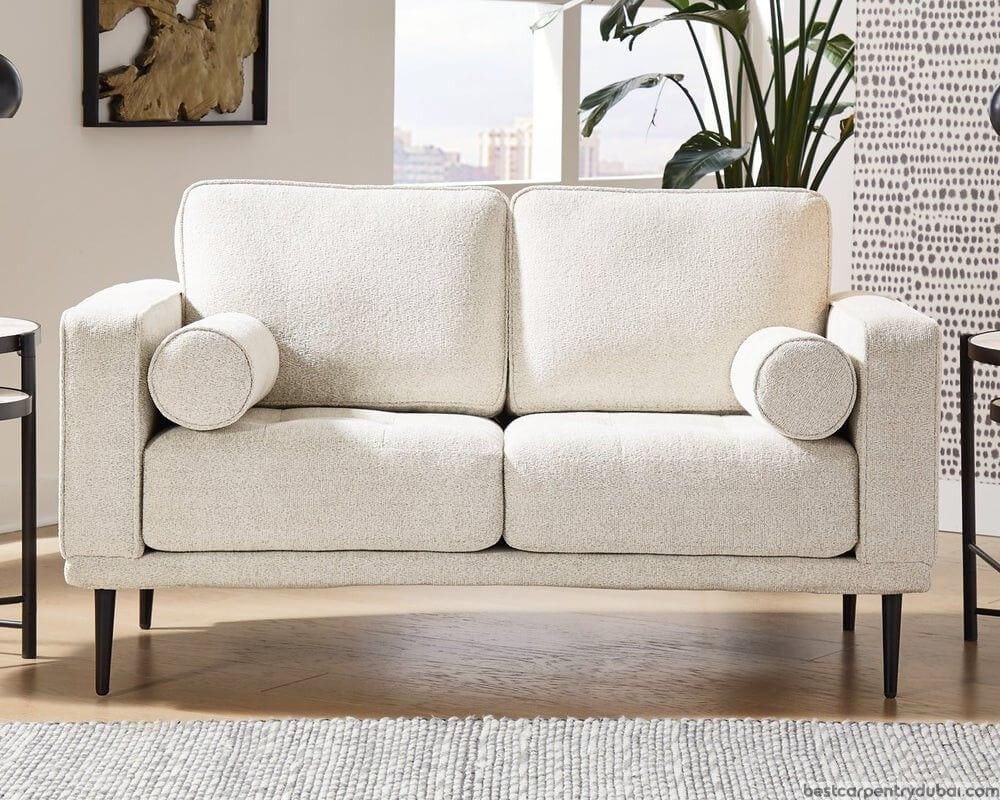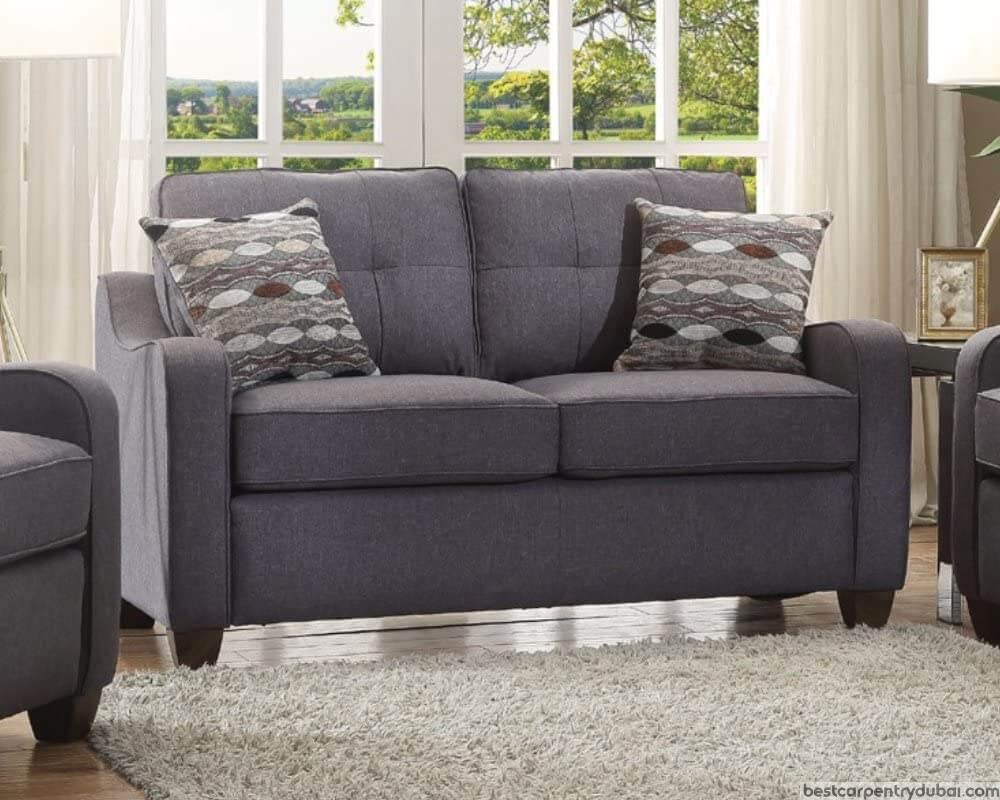 DUBAI BRANCH
Risala Furniture LLC 9 24 A street, Al Quoz 1 Dubai – United Arab Emirates
Landline: 04-2959449
Phone: 056-600-9626
ABU DHABI BRANCH
Abu Dhabi Island, Al Salam Street Behind Abu Dhabi Municipality And FAB Bank Heirs. Of Ibrahim G. Sultan Al Suwaidi Building ONLINE FURNITURE – Showroom no. S2 Abu Dhabi
Landline: 02-6721444
Phone: 056-600-9626
Two Seater Sofa
The décor of the living room is completed without a sofa set sitting in the center of the space. You need a cozy, comfy couch design to create the ideal seating arrangement for resting and leisure. Consider the latest couch designs that creatively use space if you live in a modern or contemporary urban flat. Sofa beds and sofas with storage possibilities are godsends for houses with limited space. Modern couch designs that emphasize neutral colors, clean lines, high utility, and basic techniques are trendy. Don't get a step back to experiment with different patterns and colors while constructing your holy areas.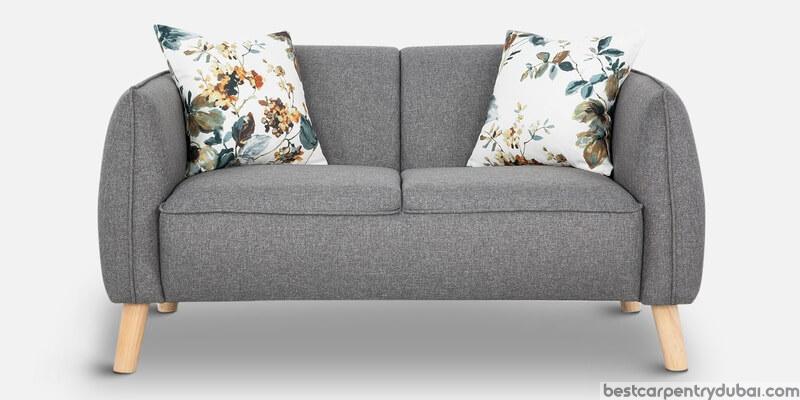 The Two-seater sofa offers a two-person seat. The two sofa components are small and take up little room, and they're also not too big. As a result, you can quickly transfer them. Furthermore, the material utilized for the sofa assures that it will last for many years. While relaxing on our wooden sofa, you may read a book, play a video game, or watch a movie with your friends. This collection of couch colors and patterns will complement your home decor. You may also choose from our wood framed, fabric, leather, and leatherette wooden couch designs. These wooden couches are also ideal for watching movies and playing video games since they give the best posture for enjoying your daily dose of entertainment. Examples of a two-seater sofa are a love seat sofa, a chaise lounge.
Advantages of having a two-seater sofa
Unique style
A two-seat sofa comes in a variety of styles and patterns. There is something for everyone, from classic to contemporary to wooden and cloth. Each double-seater couch design has its own set of characteristics and utility. A two-seater wooden sofa adds aesthetic value to the room. The colors and design on the fabric two-seater couch offer a rich appeal to the home.
 Space Saving 
A sofa for two people is a substantial piece of furniture in the room. Because of its design, the double-seater coach may establish a portion in a vast space and generate an impression of closeness, allowing people to sit in comfort. Three-seater couches can creatively use the existing floor space in smaller areas freeing up extra space for other purposes.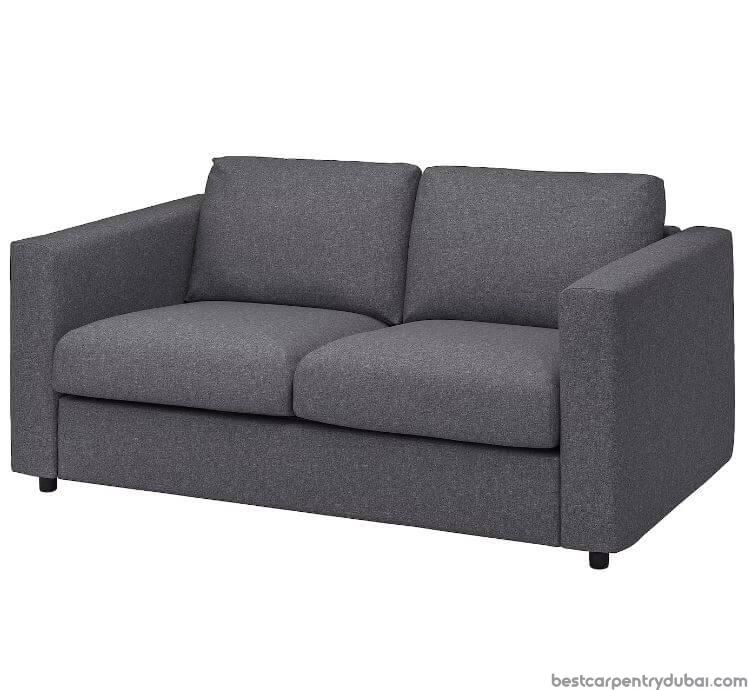 Provides  comfort 
A two-seat sofa is ideal because there would be no cording or gaps between cushions to cause pain. They are suitable for lying down and resting, and if there are other pieces of furniture in the room, they are simply the preferable choice since they do not impede the view or the light.
Why choose us?
Best Carpentry Dubai is well-versed in your furniture requirements. And, we are glad to provide you with the essential items at the lowest prices. Our coach seats are designed to provide additional comfort after a long day. While relaxing on our wooden sofa, you may read a book, play a video game, or watch a movie. Our objective is to meet each customer's needs by providing outstanding value and expertise. Our high-quality carpentry services can help you realize the dreams of your family or business. Best Carpentry Dubai is dedicated to establishing mutually beneficial and outstanding connections with each buyer.