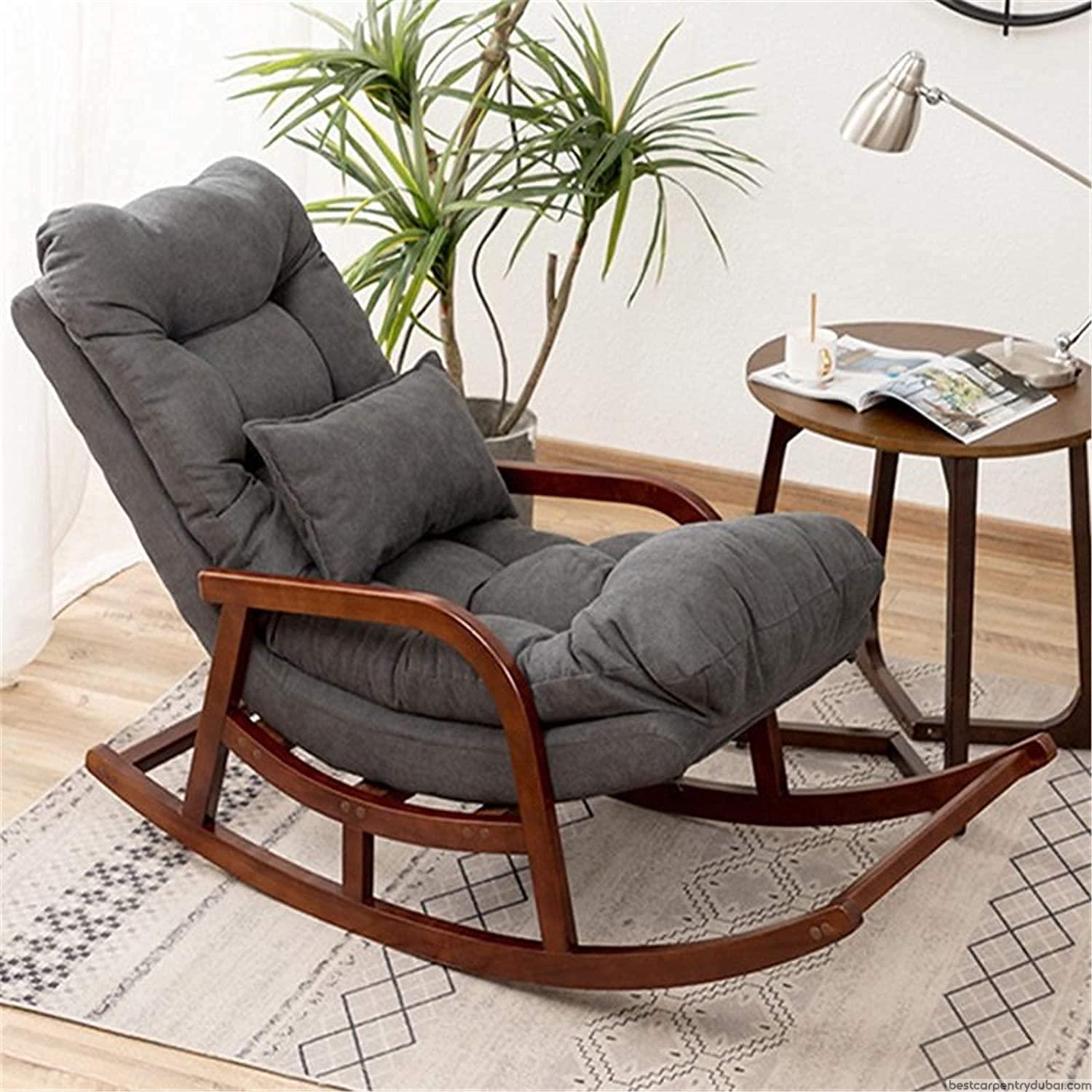 DUBAI BRANCH
Risala Furniture LLC 9 24 A street, Al Quoz 1 Dubai – United Arab Emirates
Landline: 04-2959449
Phone: 056-600-9626
ABU DHABI BRANCH
Abu Dhabi Island, Al Salam Street Behind Abu Dhabi Municipality And FAB Bank Heirs. Of Ibrahim G. Sultan Al Suwaidi Building ONLINE FURNITURE – Showroom no. S2 Abu Dhabi
Landline: 02-6721444
Phone: 056-600-9626
Find The Most Comfortable Rocking Chairs at BestCarpentryDubai 
A rocking chair, also known as a rocker, is a chair with two curving bands (also called rockers) attached to the bottom of the legs, which link the legs on each side. Only two points of contact with the floor allow the occupant to rock back and forth simply changing their weight or lightly pushing with their feet. The most frequent material for rocking chairs is wood.
Aside from relaxation, a rocking chair has a number of advantages. Its incredible design and mechanics provide a multitude of health benefits as well as help with some critical illnesses. BestCarpentry Dubai offers the comfiest rocking chairs.
Benefits of Purchasing Rocking Chairs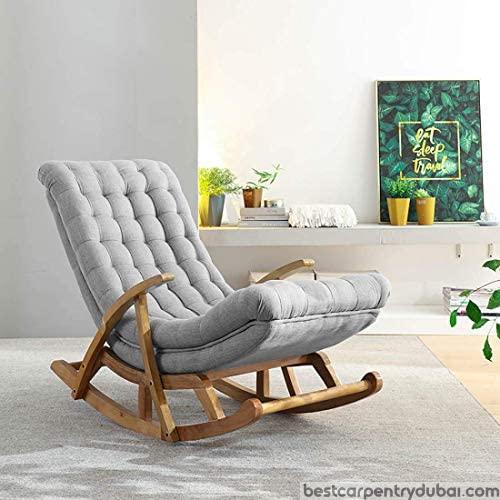 Enhances mental well-being:

The calming movements of a rocking rocker have been shown to be useful for persons going through a difficult time in life and suffering from worry or stress. The body releases endorphins in the brain as a result of these motions, which quickly improves mood and reduces stress.

Losing Weight: The rocking chair is an exercise in and of itself that aids in weight loss. People who are unwell or elderly and cannot undertake strenuous exercise will benefit from a gentle workout in a rocking chair. The back-and-forth movement helps to improve muscles, tone the body, increase energy, and burn calories. Sitting in a rocking rocker on a regular basis can help you lose a little weight. 
Improved Sleep:

A infant sleeps soundly when swayed back and forth, as we all know. As previously said, the rocking chair decreases stress and anxiety, allowing the user to sleep well. If you're having trouble sleeping, consider using a rocking chair; I guarantee the results will be positive.
Excellent to treat Arthritis:

People with arthritis may find that rocking is really beneficial. As previously said, rocking helps to strengthen the muscles and joints, therefore providing pain relief. Additionally, increased blood circulation delivers more oxygen to the knees and joints, lessening pain.

Back Pain Relief:

A rocking chair can help you improve your body posture significantly. As incorrect posture is the primary cause of back and neck discomfort, this results in reduced back and neck pain. Additionally, the rocking chair's movement stimulates blood circulation and lowers inflammation, alleviating any type of physical pain. If you're concerned about your back problems, a rocking chair may be useful.

Emotional Harmony: A rocking chair not only relaxes the body, but it also relaxes the mind by releasing all of the stress that has built up. Aside from that, the act of rocking helps with concentration. You can place the rocking chair in any room of the house that makes you feel most relaxed and refreshed.
Why Choose Us? 
In terms of design, a rocking chair is unrivaled. Even if you're looking for an upholstered rocking chair, you'll be able to discover it. The polish we use for a beautiful finish reflects our high standards. Do you want your rocking chair to have a distinctive pattern or concept? Share it with our experts, and they'll help you customize it for a fantastic performance! We only choose the best quality materials for you!