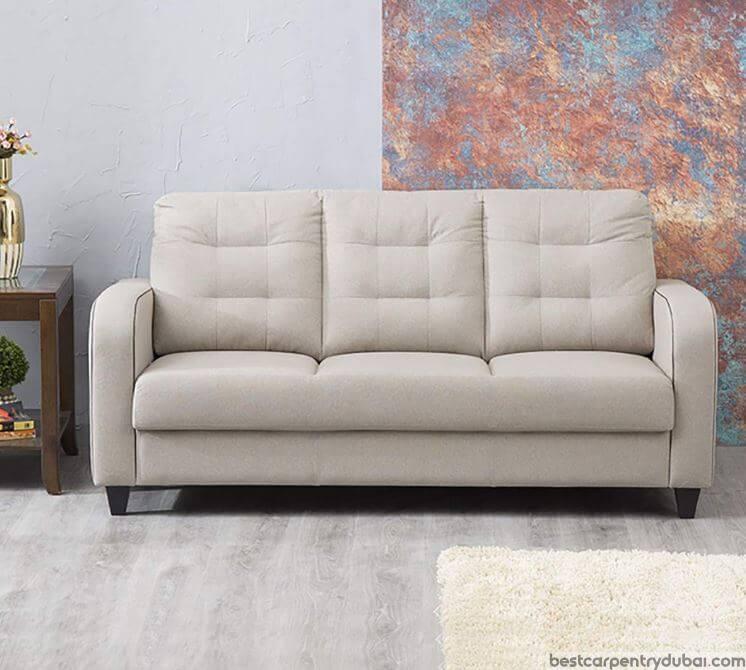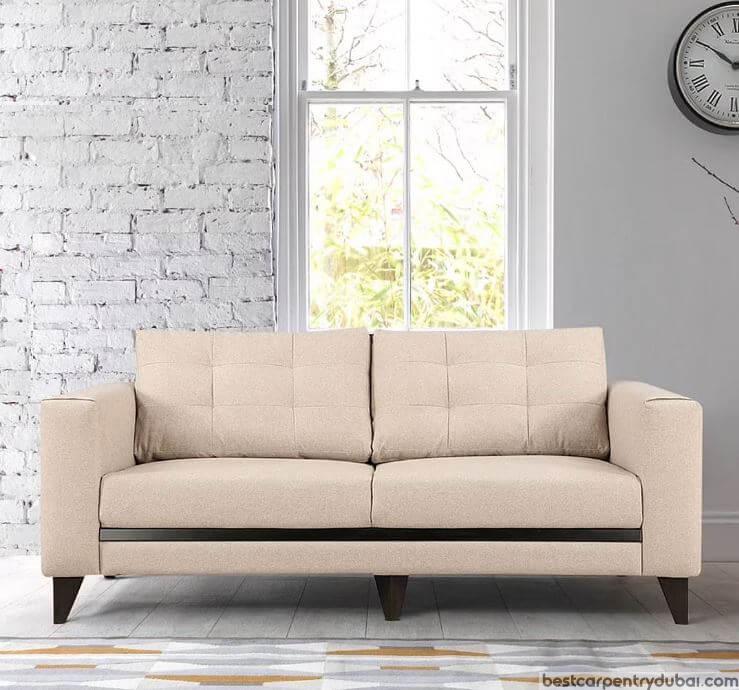 DUBAI BRANCH
Risala Furniture LLC 9 24 A street, Al Quoz 1 Dubai – United Arab Emirates
Landline: 04-2959449
Phone: 056-600-9626
ABU DHABI BRANCH
Abu Dhabi Island, Al Salam Street Behind Abu Dhabi Municipality And FAB Bank Heirs. Of Ibrahim G. Sultan Al Suwaidi Building ONLINE FURNITURE – Showroom no. S2 Abu Dhabi
Landline: 02-6721444
Phone: 056-600-9626
3- Seater Sofa
A three-seater sofa will freshen up your living area and is ideal for urban apartments with limited space. A three-seater sofa can be designed in various styles, from contemporary to traditional to eclectic. Three-seater couch designs that suit your décor theme are available online. Place a comfortable sofa across from the TV unit in the living room. A comfortable 3-seater sofa design gives visitors an appealing and welcome spot to unwind, whether it's for movie marathon evenings or dinner parties. A living room is like a bedroom without a good bed without comfortable seats. A three-seater sofa is a terrific addition to your living room. 
A three-seater sofa is a medium size sofa for having three seats. A three-seater sofa is a traditional sofa set that is always there in all types of homes. Whether Modern or formal, a three-seater sofa has always been the first choice as it has the perfect layout. Suitable for small apartments and medium-sized homes. There are different three-seater sofas like a chaise lounge, Chesterfield sofa, etc.
Now let's see what all advantages and perks a three-seater sofa offers. 
Advantages of the three-seater sofa
Comfortable Unlike one or two-seater couches, the three-seater provides much-needed comfort. It gives the family more space to share and makes seating more comfortable. It can also be used as a daybed if you wish to nap in the afternoon. The three-seater seaters work well with other seating arrangements, resulting in a stunning sofa set.
Takes up less space: Even in the most significant homes, space is limited since numerous pieces of furniture must fit into a living room. A sofa is the piece of furniture that takes up the most room, and thus it should be small but attractive. The three-seater couch takes up the least space and provides ample seating for a growing family.
Attractive : Compared to other more extensive arrangements, designing a three-seater sofa is simple but attractive. The couch can be styled with a sophisticated design, and the living area will be freshened up. 
Budget-friendly: A sofa is a significant investment, and the three-seater sofa is one of the most cost-effective options available. Best Carpentry Dubai assures that it provides the highest quality furniture at an affordable price without sacrificing appearance, making the purchase worthwhile. 
Consistency
The living room's allure is in getting the proportions right. Place the three-seater sofa unit opposite the television unit if the house owners have one. Then, for proper proportions, single sofas on either side. However, if there isn't a central point, balancing the big sofa set with two seats can solve the problem. Individuals will benefit from the sectional because they will not have to move any chairs.
Why choose us?
Beautiful three-seater sofas can be found at Best carpentry Dubai reasonably priced. Our 3-seater sofa set comes in various styles and colors to help you keep your area looking cohesive. From floral upholstery 3-seater sofas to solid-colored 3-seater sofas, we offer an outstanding selection to pick from. Our 3-seater sofa line, like all of our furniture, comprises exceptionally well-made, long-lasting items. It's like having a living room without nice seating.