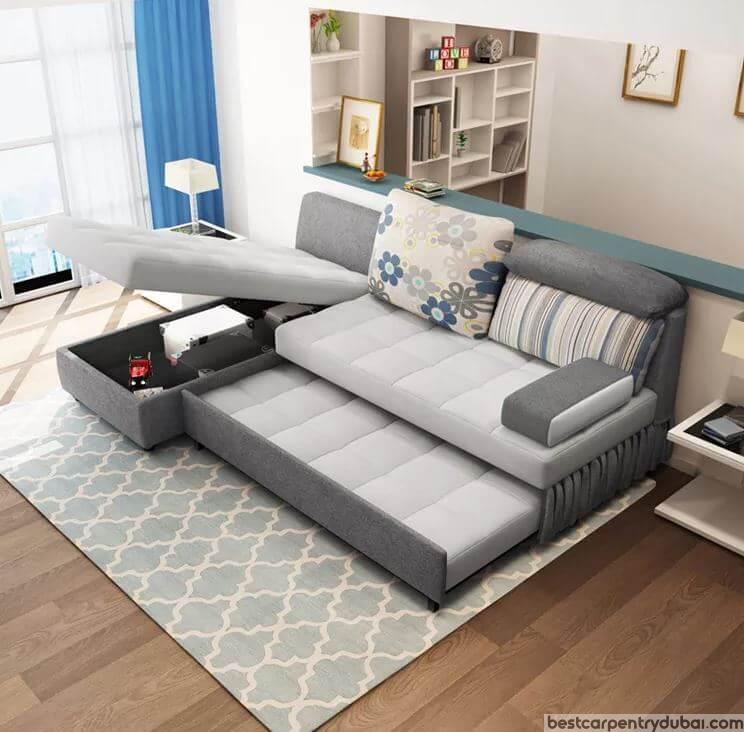 DUBAI BRANCH
Risala Furniture LLC 9 24 A street, Al Quoz 1 Dubai – United Arab Emirates
Landline: 04-2959449
Phone: 056-600-9626
ABU DHABI BRANCH
Abu Dhabi Island, Al Salam Street Behind Abu Dhabi Municipality And FAB Bank Heirs. Of Ibrahim G. Sultan Al Suwaidi Building ONLINE FURNITURE – Showroom no. S2 Abu Dhabi
Landline: 02-6721444
Phone: 056-600-9626
Sofa Cum Bed 
A sofa cum bed is a convertible piece of furniture where a couch changed over into a bed out of luck. It seems to be like a couch or lounge chair and it is here and there called a sleeper couch or foldable couch by individuals
A sofa cum bed is the best way to utilize space, as it makes the space look fuller and adds volume to the look of your furniture without compromising on comfort. It is a flexible household item for your guests. You have a spot to relax and unwind by day and an agreeable, space-saving dozing region around evening time with an adaptable couch bed or couch cum bed. A few forms have the underlying capacity, making it a profoundly practical household item. A sofa cum bed is a somewhat famous furniture thing that addresses many problem areas for mortgage holders who need solace on a careful spending plan. On the off chance that you are searching for space-saving furniture answers for your home, a bed cum couch configuration might be the ideal response to your questions.
Now and again, small apartments can act as an issue in the absence of a room. In any event, facilitating visitors in a little loft is difficult. In such cases, purchasing a couch cum bed is likely the best choice.
Here are a few reasons why you should switch to a sofa cum bed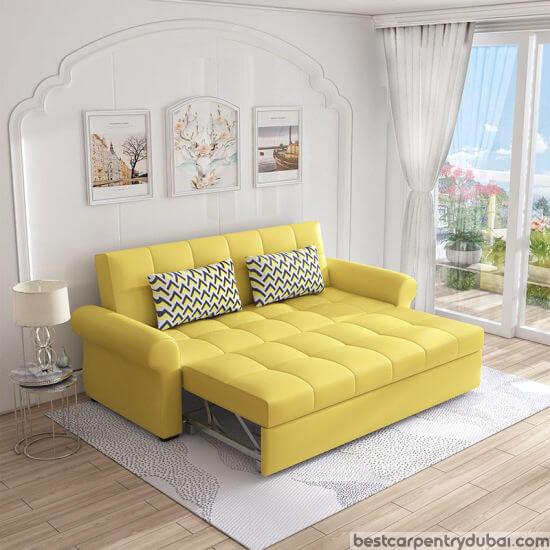 Fashion Statement – These days, most current fashion inclines toward a couch cum bed to a standard couch because of its simple usefulness and multi-utility.  Alongside this it also adds to the look of the area, giving it a luxurious high-end feel.
Budget – It isn't guaranteed to be a little loft, now and then individuals won't spend cash on a ton of furniture. In such cases, many people decide to purchase beds. Yet, what results from this is that the absence of a couch or an appropriate guest plan in the lounge room ends up being self-evident. In such cases, purchasing a couch cum bed isn't the main financial plan well disposed of, yet in addition, outwardly engaging. According to your necessities, you can transform it into a couch or a bed and can utilize it to engage your visitors and for your rest time.
Easy to use – Transforming a bed into a couch and a couch into a bed can seem like a ton of work which is typically completed by experts. In any case, the couch cum bed is planned so that anyone can utilize it without dealing with any issues.
Two in one benefit – It can be converted into a bed whenever required and likewise it can be converted into a sofa as well. While occupying less space offers more benefits to the buyers. 
Why Best carpentry Dubai?
Converting a basic sofa into a bed or a bed into a sofa sounds boring, here at Best Carpentry Dubai, our experts add their creative touch by adding a range of designs and colors. This not only makes a design look alluring but also makes it look expensive, while you pay for something that doesn't hurt your pocket without playing with your comfort.